On Thursday morning, the Open Champ tweeter spotted Tiger and former swing coach Butch Harmon hugging it out. (I love you, man!) At least that's what it sounds like — I mean, did they talk and then hug, or hug and then talk? Because that makes a big difference. In the spirit of British tabloids and pure speculation, perhaps the two are trying to forgive and forget the mysterious reason why Tiger dumped Butch in the first place (subsequent fallout). Or they're just two adults are happy to see each other because they're over it.
Mind you, Butch did have some harsh words for Tiger this spring (whenever a microphone was put in front of him). But given Tiger's recent struggles on the course and his success with Butch, perhaps he'd actually try to move past it. I mean, first, he switched balls. And then he switched putters. If that fails this week, then what's next? God forbid, "video" isn't doing the job and he might actually seek help.
Thing is, Butch now works with Tiger's "nemesis" Phil Mickelson. He couldn't teach both of them — total conflict of interest. But if you're Butch and Tiger calls offering you a job, what do you do? You accept, hang up and dial Phil to break up. (Insiders claim Butch would agree without a second thought.)
Either way, if it's not Butch, Tiger needs to work with someone named Harmon — or Foley.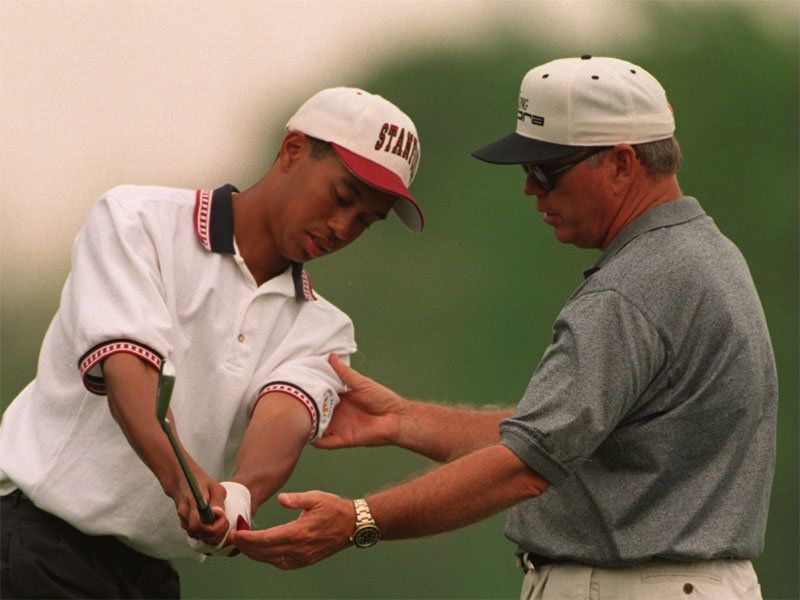 A reminder of better times for teacher, student and swing.