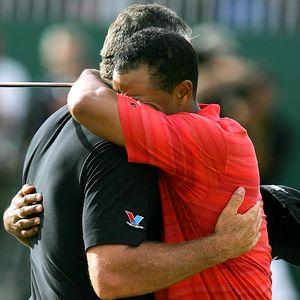 At a press conference Tuesday afternoon a Florida Highway Patrol spokeswoman announced that Tiger will be issued a traffic citation for careless driving. The penalty is a $164 ticket and four points on a driver's record. (Ouch!)
The spokeswoman said their investigation of the car crash is concluded. She also clarified:
The FHP is not pursing criminal charges in this matter, nor is there any testimony or other evidence to support additional charges of any kind.  After reviewing the evidence available to us, and in consultation with the Office of State Attorney Lawson Lamar, it was determined that there was insufficient evidence available to issue a subpoena for additional medical information that may exist in this case.  We cannot speak to the existence of any blood evidence, nor are there claims of domestic violence by any individual.
And she added that Tiger's celebrity status did not impact the outcome of their investigation. So, if the same strange events surrounding Tiger's accident happened to John Q. Public, then they would have been OK with John turning away cops from his home on three different occasions and refusing to reschedule the interview?
In related news, Linda and Jerome Adams were Tiger's neighbors who made the 911 call. Bill Sharpe, the attorney representing them, explained they went outside when they heard the wreck and found Elin Nordegren Woods kneeling next to her dazed husband. She asked them to call 911. Sharpe relayed their observations:
Woods' injuries were consistent with a car wreck and inconsistent with him being beat up. The scratches on his face were consistent with someone who maybe was in a minor car accident and hit his head on the windshield…None of his injuries looked like he was beat up by his wife.
Sharpe added that none of the family members saw Elin's smash and rescue (heroically breaking back windows of the Caddy with a golf club to extricate her 200lb husband from the driver's seat). So, if the Adamses heard the wreck, wouldn't they have heard the windows breaking, too? Elin's story continues to make no sense. But no more questions because, you know, it's a private family matter. Fair enough.
While we won't be seeing Tiger or Elin in criminal court, there's still the possibility of divorce court. Someone get Tiger the number for the "Raoul Felder of Orlando!"