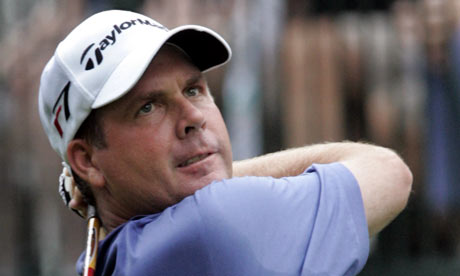 Golf Magazine's Cameron Morfit took some time to hang out with Doug Barron in Houston on Monday.
Barron's long history of medical problems has been well-documented. But curiously enough, the PGA Tour denied his application for a therapeutic-use exemption (TUE). As part of the process, he was evaluated by Tour-designated doctors that didn't find the medications necessary:
Barron said he stopped taking testosterone before the Tour sent him to see an endocrinologist at the Mayo Clinic in Ponte Vedra, Fla., in October 2008. The doctor's evaluation came as a surprise: Barron's testosterone level was within the normal range.
[…] he was told to send a copy of his echocardiogram to another of the Tour's doctors, who detected symptoms of mitral-valve prolapse but not enough for medication.

But Barron feels like he was unfairly diagnosed by doctors under the Tour's payroll:
I feel like I went into the visitor's stadium and got run out of there. I really would love to go to a different endocrinologist and be evaluated by a different cardiologist to feel like I got a fair shake.

So, this was treated like a personal injury case, you know, where each side sends their own doctors' evaluations. Barron's blunder is that he didn't seek a second opinion or try to contest the Tour's decision at the time. Shaun Micheel, a Tour player and Barron's friend, has low testosterone, as well, and was only granted a TUE after a four-month battle with the Tour.
Worst of all, Barron knowingly took the testosterone even though he was "told very clearly" otherwise, according to Tour lawyer Rich Young. Barron acknowledged he knew he would fail the drug test, but added, "I hadn't had a testosterone shot in seven months and was feeling like I felt when I couldn't get out of bed."
And while he regrets his decision, he thought the Tour would show him mercy because he's a good, honest person:
"I personally thought that if Tim Finchem knew me as a person, knew my medical history, which has been documented in articles in the [Memphis] Commercial-Appeal …" he said, his voice trailing off.

Does he know Tim Finchem? Expressing pity on Barron after he broke a rule? Laughable!
From the information we have, it appears Barron should have been granted a TUE. So, perhaps he still has hope with the lawsuit. But what it comes down to is that he's a struggling, no-name player who made a pretty big mistake and unfortunately has to suffer the consequences. And we only (kind of) care because he was (allegedly) the first to test positive for a banned substance. He won't be the last either. Other players taking PEDs: Find a masking agent.